"Where is the best place to go hiking?" This frequent question leads to a complex answer that is far from unanimous. Some hikes have breathtaking views of Lake Superior, some have quiet solitude, some have spectacular river valleys, and some have all the above. Our answers change throughout the year, because the magical thing about the trails around Duluth is that they morph with the seasons, offering four unique experiences as the calendar pages turn. Winter offers a clean backdrop, spring brings new life to the woods, summer provides long days of adventure, and autumn paints us a fiery scene on every hillside.
Now that most trees are bare in preparation for winter, it is one of our favorite times to lace up hiking boots and hit the trail. See-through season opens the woods to new experiences for all trail users. The leaves that once danced overhead now blanket the ground, crunching underfoot as new outlooks are uncovered through the bare trees. We dust off our favorite jackets, don a pair of wool socks, and have an extra cup of coffee (with or without pumpkin spice) as we cut through the morning chill en route to the trailhead.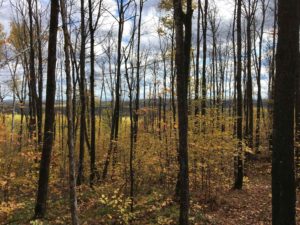 Leaves on the ground means that there are unimpeded views through the trees as you peer into the distance, catching a new view of Lake Superior that was hidden by foliage through the summer. While a new view is a reason to hit the trail, there are some other reasons to take advantage of see-through season. Foot traffic on the trail falls with the leaves, even along the most popular sections. If you want Bean and Bear Lake to yourself, now is the time to hit the trailhead. Mosquitos and ticks also vacate once temperatures drop, leaving your base layers free of bug spray smell. Critters are prepping for the winter, so expect to see some wildlife scampering through the woods. Cooler temperatures help a day on the trail be more comfortable and less sweaty, making the aprés hike activities more tolerable among trailmates.
See-through season is perfect for solitude and expanded views, but there are a few things to remember as the season changes. The biggest thing that we continually try to educate people on is to layer properly and be prepared for the weather. Turn on Gordon Lightfoot as you prepare for your hike to be reminded of those infamous "gales of November". Daylight hours are waning, so throw a headlamp in your pack just in case. Deer hunting does limit hiking in late fall, so check in with the Superior Hiking Trail Association's trail updates for temporary closures. Even on open trails, remember to wear orange!
Peak see-through season is upon us, and while the leaves have fallen, the temperatures have not. Just as soon as see-through season heats up, our perspective will again change as the snow extinguishes the fall colors and winter creeps in.As for the best place to hike, check out the SHT between Duluth and Two Harbors. No bugs and long views to Lake Superior make this a prime see-through season adventure.